I have recently been spending a bit on time on my ASUS C302 Chromebook using the Momentum dashboard. This Chrome extension is really nice and it got me thinking about what I would really like to see from a modern computer operating system.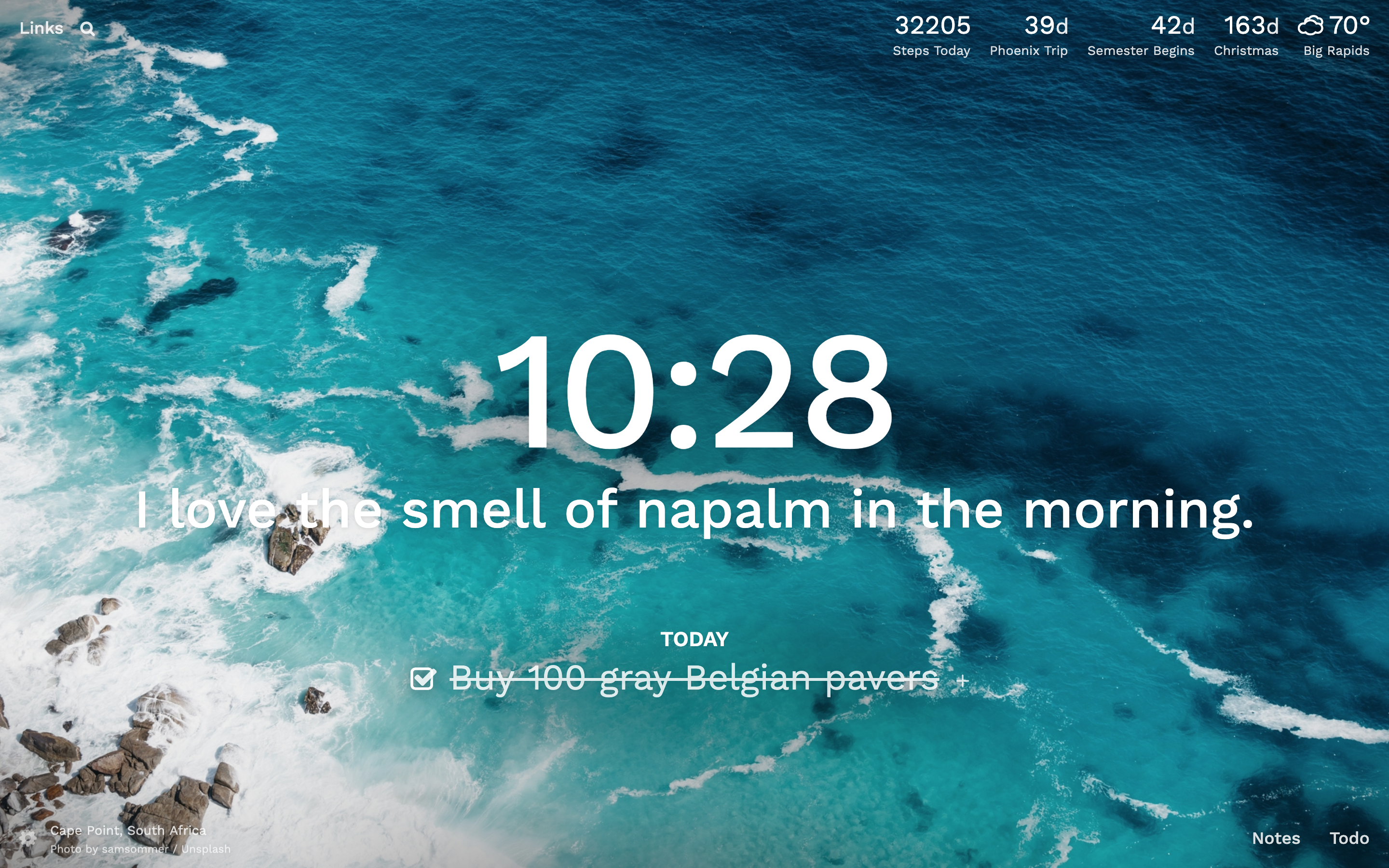 Introduction
It seems to me that GUI interfaces for computer operating systems have not changed all that much over time. Nearly thirty-five years ago, Mac OS 1 had a desktop that you could put files and drives on and a toolbar with commands and options at your fingertips. Flash forward to today and regardless of whether you are using Windows, Macintosh, or Linux machines the picture remains pretty much the same. Sure we have taskbars or launchbars too. This is all well and good. The interface is familiar and comfortable, it is relatively efficient, and is adaptable. I just want my computer to do more for me by default, and I'm not too sure that the desktop model is the way to get this done.
The interface that I prefer is a dashboard. Sure… Macintosh has a "dashboard" right now. In my opinion, that interface is one of the ugliest things that they have ever produced. It is cluttered, incoherent, and utterly useless. It is rightfully being discontinued in MacOS Catalina. Just because this attempt was poorly implemented, however, does not necessarily mean that dashboards cannot work. I think that Momentum is on the right track.
What I am looking for
The momentum dashboard is currently a browser plugin for Chrome and Firefox. What I really want is an amped up version of this embedded into the operating system by default. Nearly all modern operating systems currently allow virtual desktops. I seems likely that Chrome will soon be able to do this too. I would like a momentum-like dashboard to be the default desktop. No toolbar; no launchbar - these could be accessed by swiping down or up, respectively, on a touchscreen or hovering with a mouse. The dashboard essentially acts as a data aggregator and summary display interface using the API interfaces to other services. A more detailed and full-featured interface can be gained by launching the full app (which would open on a separate desktop, as opposed to a new tab in the current momentum implementation). A keyboard shortcut brings us back to the home desktop, which would never have an active application window on it. The whole feeling should be very lean and clean (zen-like).
What to put on the dashboard
Much of what I want is already available with the momentum plugin. But I have even more on my wishlist. Here is what I desire at the moment.
Background

Currently supported in Momentum


All systems use (or can use) pretty images as a background. I like the way that Momentum uses a new one every day. I like the change of scenery, but people should be able to configure this to suit their own preferences. Momentum does this well.

Quotes

Currently supported in Momentum


I also like to have a fun quote for each day show on the screen. Some people use inspirational or motivational quotes; I use famous movie quotes. People should be able to turn this off if desired. Momentum also has this right.

Clock

Currently supported in Momentum


I like having a clock front and center when I am not actively working on something. Momentum allows for both 12 hour and 24 hour clocks. The only extra that I would like is the ability to toggle an am/pm indicator on or off.

Calendar

Not currently supported in Momentum


Next to the current time, I would really like to see a small calendar of the current month displayed. As I envision it - when you click on a day, a list of events for that day would be displayed. This would be similar to the way that to-dos are handled and include an option to open the full calendar app on a new desktop. We should be able to link to any calendars we want (Outlook, Google, or Mac Calendar).

Email

Not currently supported in Momentum


I strive to maintain inbox = 0. I would be nice to be able to click on the dashboard and see the sender and subject line for any unread emails in my inbox. Once again, a option to open the mail program fullscreen on a new desktop would be available. I would hope that Gmail, Outlook, and Macintosh Mail would be supported.

Web search

Currently supported in Momentum


I find myself searching the internet for information several times every day. It makes sense, then, to have this built right into the home dashboard. Momentum allows users to choose between Google, Duck Duck Go, and Bing. That works for me.

Links

Currently supported in Momentum


There are a handfull of web sites that I frequently visit. Momentum allows me to place these in a list accessible on the dashboard. I would like a similar functionality, except they would launch a fullscreen browser on a new desktop rather that open in a new browswer tab (as Momentum does now).

Working Documents

Not currently supported in Momentum


I would like an interface similar to links for my current working documents. Instead of adding links, this would be a list of aliases to any file(s) that I want easy access to. This would be, in my opinion, a cleaner approach than putting a bunch of alias icons on the desktop.

Weather

Currently supported in Momentum


It is always nice to be able to get the current weather and forcast. Momentum has a nice interface with Accuweather. The only thing that I would add here is access to the current weather radar image.

RSS feeds

Not currently supported in Momentum


The dashboard could also provide news and other articles. By linking to various RSS feeds, I could quickly scan recent titles from the sources that I know and trust for items of interest. One click could then open them in a fullscreen RSS viewer (like feedly) for reading.

Notepad

Currently supported in Momentum


I often find myself trying to capture ideas on scraps of paper or simple text documents. Momentum has a notes feature that facilitates this process. I would like something similar with a few enhacements. I would really like the tool to use markdown syntax for simple formatting. In addition, I would like the option to click a button to open the current note in a full-fledged editor (like Work or Google Docs).

To Do list

Currently supported in Momentum


Momentum has this down pat. They provide links to a variety of different applications including the one that I use - Todoist.

Countdown timers

Currently supported in Momentum


A fun - but optional - feature is the ability to post countdown timers for major events. This gives me a little more motivation to get things done as that deadline slowly (or quickly) approaches. Momentum already does everything that I need here.

Other metrics

Currently supported in Momentum


With the host of different devices and applications that people use, there are a lot of metrics that might be usefully displayed on a desktop. Momentum can do this, and I use the Fitbit metric right now. It would be nice if clicking on the metric would open the corresponding application on a new desktop, though.
Conclusion
As you can see, much of what I desire is already available in the Momentum browser plugin. It seems to me that it ought to be a small step to make this happen in the operating system for Chrome (since the operating system there is already inimately associated with the browswer). Ultimately, I hope that all systems (Mac, Window, and Linux) move in this direction. I_really_ want all this data at my fingertips by default the moment that I boot up my computer. With this sort of dashboard, I could probably get at 90% of what I need to right from my home screen. That would surely improve my efficiency.