For anyone that might be interested, here is a little bit of background information about me. While growing up, my grandfather commented that I talked so much that I would either be a preacher or an auctioneer when I grew up. Well, he wasn't far off - I'm a college professor. There are few kinds of people that have more opinions and like to hear themselves talk more than we do. This page seems a bit self-absorbed to me. However, I hope to show my students that professors are just people too. We all have likes and dislikes, hobbies, passions, and missions. This is just a small sampling of mine.
About me
I am a stubborn Swede. Well actually, I am the product of a mixed background marriage – mom was 100% Norwegian and dad was 100% Swedish. My grandparents claimed to be unsure as to what the F1 generation was going to turn out like. Mom always said, "you can always tell a Swede, but you can't tell him much". There are times, I'm sure, when my wife shares this sentiment.
I am by nature curious, creative, and a bit obsessive-compulsive. This combination of traits makes me an effective scientist and educator (it also gets me into no end of trouble). I love to learn new things. So when faced with a challenge or problem, I tend to think deeply and read voraciously. I love books! When we moved to Big Rapids in 2006, the first 100 boxes that I loaded onto our truck were all filled with books (got to keep that kind of weight centered in the load).
You may also be interested to know that I am fiscally, socially, and politically conservative. I am also an evangelical Christian. Having said that, don't assume that I am going to get all hellfire and brimstone on you if you disagree with me. I believe that the world would be a much better place if everyone stopped looking for a 30-second soundbite to solve complex geopolitical and/or cultural issues. Life is not that simple folks. I am confident that I have good reasons for the positions that I hold, and I am willing to share them and discuss their merits anytime. So don't be afraid to drop by my office, email me, or start a discussion below. Just mind the comment policy, please.
My Family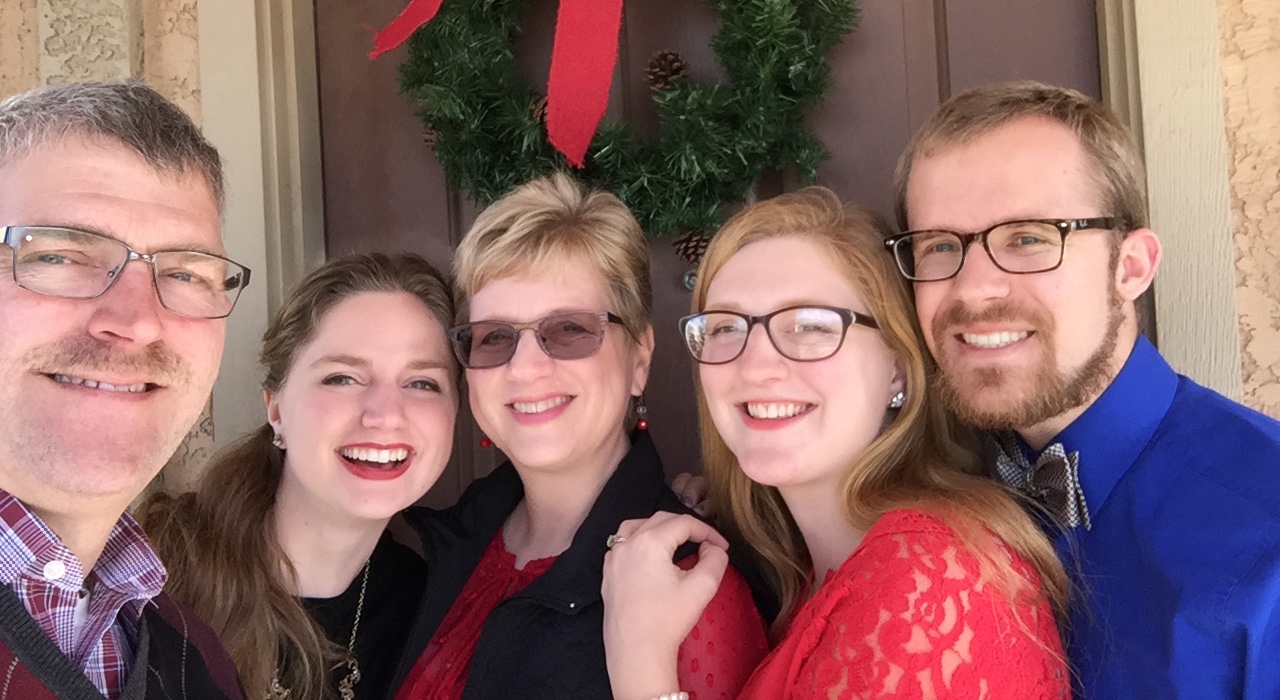 My family is the most important part of my life. I have been married to my lovely wife, Carrie, for 33 years now (we just passed the 12,000 day mark). She also works at Ferris State University in the office of the Provost. Some of you may have already had the opportunity to meet her - since she is responsible for the Provost's communications and organizing many different events on campus. In addition, she recently earned an MBA in Project Management from Ferris State University.
I also have two wonderful daughters. Emily (our youngest) graduated from Kendall College of Art and Design with a degree in Graphic Design. She currently lives and works in Grand Rapids. Jennifer (our eldest) graduated from Hillsdale College with a degree in Music. She then went on to earn her Master's degree in Music Performance at Southern Illinois University in Carbondale. In 2015, Jennifer married Zachary King (yay! finally another Y chromosome in the family). They currently live in Phoenix, Arizona (state motto: "yes, but it is a dry heat").
Other (non-human) members of our clan are Jack (our Terrier/terrorist), Meeko (the shy cat), and a Mille Fleur d'Uccle bantam chicken. Once I get our backyard properly organized, we plan to get a couple of laying hens (fresh eggs!).
My Childhood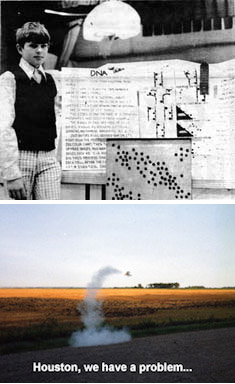 For those of you who have not already figured it out - I am a big-time geek. This condition began when I was in the fifth grade (science fair project in photo). Mr. Hofstad, a particularly inspiring teacher stimulated my interest in science. Of course, I had no real clue as to what scientists actually do - I just liked learning about science. I really didn't figure our what scientific research really looks like until I got into graduate school.
I occupied many cold Midwestern winters nights by playing around in my makeshift chemistry lab in the basement of our house in Plummer, Minnesota. There, I accidently discovered how to produce chloramine gas as well as other less potentially deadly compounds. I also was into model rocketry when I was younger. Though my friends and I used to put warheads in them to liven up the experience. Most of the time, we just used Estes motors, but we did experiment some with rocket candy too. Turns out that sucrose and saltpeter are a potent combination. I was young and foolish and I suspect that I probably would be in jail if I tried half that stuff today. I'm much older now.
My Favorites
This is a bit like what I imagine speed-dating is like… One way to get to quickly get to know something about someone is to explore some of their favorite things. Here are some of mine. Be forewarned: I am somewhat… quirky. Yeah, let's go with that. So, without further ado, here is my favorite:
AUTHOR – Michael Crichton. This is actually a tough one for me; I like so many different authors and genres. Ultimately, I selected Crichton because techno-thrillers are fun and I've probably read more of his work than most other authors. The Andromeda Strain held my attention even before I knew that I wanted to pursue microbiology. I have read all of his subsequent works (and seen the movies too). That being said, I may change my mind later…

BEER – I'm not a fan of the cheap pilsners that are so popular in college towns. Instead, if I'm going to blow the calories on an adult beverage, I tend to reach for a Founders Porter. I like dark, rich drinks without too much hops.

BIBLE VERSE – He has told you, O man, what is good; and what does the Lord require of you but to do justice, and to love kindness, and to walk humbly with your God? Micah 6:8

BOOK – How Should We Then Live? by Francis Schaeffer. I really like the way that he tried together religion, philosophy, and the arts as the dominant worldviews in the west slowly morphed over time.

BOOK GENRE – Science Fiction. I grew up reading some of the classic works of Bradbury, Clarke, Asimov, and Heinlein. I also subscribed to Asimov's Science Fiction in the 1970s. We are transformed by the company that we keep and the things that we read. I believe that I have been deeply impacted by the ideals and ideas expressed in these books.

CALCULATOR – HP 11C. OK, if you had any doubts about my nerdiness they should be settled by this. I treasure my HP 11C. I bought it as I began my Master's degree and have used it constantly for over 30 years now. In my opinion, it represents the perfect balance of form and function. It's programmability is handy and the RPN (reverse-polish notation) format of data entry is very efficient.

CANDY BAR – Snickers from Mars is by far my favorite candy treat. It represents the perfect balance of nougat, carmel, peanuts, and milk chocolate.

COLOR – Blue. If pressed to be more specific, I would say royal blue (similar to Zach's shirt in the photo above). I just find the color to be pleasing, rich, and restful.

CUISINE – Thai. My parents sometimes teased that I was just picked up at the side of the road. Sometimes I wonder if that might have been true. I grew up in western North Dakota (meat and potatoes and Polka Party on the radio). My tastes, though, are a bit more exotic. I really enjoy spicy food and Thai does it for me. It is challenging to find Thai in west-central Michigan… That is one thing that I miss from southern California.

DESSERT – Coffee and cream chocolate supreme cheesecake from the Chesscake Factory. I tend to like heavier (and chocolate-laden) desserts. Ionically though, most of the time when I dine at the Cheesecake Factory I am so full that I don't have room for dessert.

DRINK – Coffee. Nothing else even comes close. I don't even have a pulse until the second cup in the morning. I am not, however, a coffee snob. I will drink Starbucks or Biggby, but on most days it is just Folgers (black, strong, hot, and lots of it).

GAME – Chess. You can read more about my views on chess under my interests in this site.

MICROBE – Wolbachia. This is another tough one! There are just too many cool microbes in the world (and more are being found and described every day). The Wolbachia story, though, is just weird enough to top my list. It's role in nematodes and insects is like something out of a science fiction novel.

MOVIE – Monty Python and the Holy Grail. How do I pick just one? In the end, I decided that this best represents me and my sort of humor. So many great quotes… I warned you that I was quirky.

MUSICAL GENRE – Classical. I got hooked in the 1980's after Star Wars. John Williams is a gateway drug… It didn't hurt that I fell in love with a beautiful violin player at the time too. In reality, my musical tastes are rather eclectic. I sometimes set iTunes to select songs at random from my library for a laugh. The progression ends up being something like (Gregorian chant –> Devo –> Puccini –> Garth Brooks –> ABBA –> Macklemore –> Beethoven –> AC-DC).

MUSICAL GROUP – Pentatonix. I like music with complex themes and tight harmonies. That is part of the appeal of classical music for me. Acapella groups like the Pentatonix also tend to do these things well. Other groups that I enjoy are the Nylons and Straight No Chaser.

OPERA – Turandot. I really discovered opera while living in southern California. My family and I had the opportunity to attend many stage rehearsals of the Orange County Opera. I really like the story of Turandot (it reminds me of fables from my childhood). That, and listening to Nessun Dorma seals the deal for me.

PASTTIME – Reading a good book. You can see what I have been reading lately here.

PEN – Pentel Energel Encore. Yes, I seriously have a favorite pen! I am left-handed. As a consequence, many inks smear as I move across the page (very annoying). The Energel inks dry quickly and do not smear. The body of this pen is metal and well-balanced. In addition, the twist action prevents ink leakages in my pockets (also very annoying).

PHILOSOPHER – Immanuel Kant. As an undergraduate, The Critique of Pure Reason was like a bolt out of the blue for me. Kant's work to delineate the phenomena and noumena continues to influence the way that I view science today.

POEM – Four Quartets by T.S. Eliot. OK, I'm cheating - that is really four poems. If pressed, I'll choose Little Gidding. The structure, cadence, and imagery of humanity and salvation give me chills just thinking of it.

QUOTE - "Some people are like Slinkies. They aren't really good for anything, but they still bring a smile to my face when I push them down a flight of stairs." ― Patricia Briggs, Iron Kissed. I have not actually read the book - I'm not that into the whole werewolf genre.

SEASON – Spring. More specifically, my very favorite time of the year is during the first cutting of alfalfa. After a long, long, looooong Michigan winter, the verdant fields of spring really speak to my soul.

SONG – Bohemian Rhapsody by Queen. Growing up in the 1970s, classic rock became a integrated into my whole view of life. A Night at the Opera was a brilliant album and was a formative part of my high school years. I still listen to this nearly every week. The Pentatonix version is also awesome, by the way.

SPORT – Basketball. As you can read about elsewhere on this site, I enjoy many different ball-based team sports. For the time being, basketball is my main form of exercise.

STAR TREK EPISODE – The City on the Edge of Forever. This is another tough call, since I also really like Space Seed, Amok Time, and The Trouble with Tribbles. The poignancy of the ending in this episode is what puts it over the top for me.

STAR TREK THE NEXT GENERATION EPISODE – The Inner Light. This is an easy pick for me. In fact, I would place this episode at the top of all episodes for all series in the Star Trek family (including movies). This is simply great writing and acting. The ending always gets me.

TV SERIES – Combat. Growing up with black and white TV in the 60's, I got to watch some great series (like Rat Patrol and The Rifleman). The combination of Vic Morrow and Rick Jason in this program is great. Little John, though, was always my favorite character. My two favorite episodes were Hills are for Heroes and The Little Carousel.

TEAM – Minnesota Vikings. I am a long-suffering fan. With the Vikings, that is the only type of fan that exists. They never seem to be horrible enough to get a great draft pick. Yet, they are never great enough to win a SuperBowl. Instead, they are just good enough to get your hopes up - only to dash them upon the rocks during the playoffs. I think that Minnesotans use this as a sort of therapy to keep up their stoic mindsets.
Feel free to let me know in the comment section below if you have different favorites in these categories. You can also suggest other favorite categories to be added to the list.