Between my degrees and post-doctoral research, I have spent 20 years of my life in the lab. This page gives you the 'Reader's Digest Condensed Version' of my educational journey.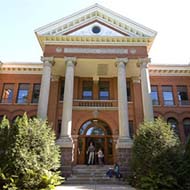 Bachelor's Degree
Concordia College, Moorhead, MN (1980-1984)
B.A. in Biology, with a minor in Philosophy
While studying at Concordia, I took my first microbiology courses and fell in love with the field. I was hooked after taking General Microbiology and Parisitology with Dr. Paulson. During my senior year, I also enrolled in a Medical Microbiology course at NDSU. Although I still had little idea of what biological research involved, I decided then to pursue that avenue.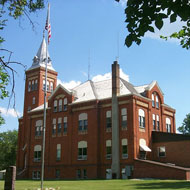 Master's Degree
North Dakota State University, Fargo, North Dakota (1984-1986)
M.S. in Bacteriology
Dissertation
After graduating from Concordia, I moved across the Red River to pursue my Masters degree. At NDSU, I studied under Dr. Thomas Glass in what was then the Department of Bacteriology. My thesis was entitled "Glucose uptake by the cellulolytic rumen anaerobe Bacteroides succinogenes". This bacterium (which has since been renamed Fibrobacter succinogenes S85) is a Gram-negative strict anaerobe found in the bovine rumen. My research focused upon the kinetics and energetics of glucose transport. I credit Dr. Glass with teaching me how to write scientific manuscripts well. This also marked the beginning of my fascination with the physiology of anaerobic bacteria.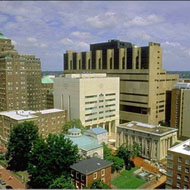 Doctoral Degree
Medical College of Virginia/Virginia Commonwealth University, Health Sciences Division. Richmond, Virginia (1986-1990)
Ph.D. in Microbiology and Immunology
Dissertation
I next obtained my Ph.D. from the Medical College of Virginia while working with Dr. Phillip Hylemon. My doctoral thesis was entitled "Purification and characterization of two oxidoreductases involved in bile acid modification by the intestinal anaerobe Eubacterium sp VPI 12708". I spent the bulk of four years in a coldroom trying to purify enzymes involved in bile acid biotransformations by this organism - I must have missed the Fargo climate. Richmond was a great place to live and we made a lot of friends there. Dr. Hylemon taught me how to plan out and execute a research project - he was a tremendous mentor and excellent thesis advisor.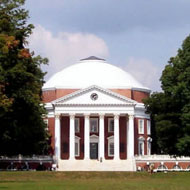 Postdoctoral Research Fellowships
University of Virginia, School of Medicine. Charlottesville, Virginia (1991-1997)
In my first fellowship, I investigated the regulation of the cobalamin transporter, BtuB in the laboratory of Dr. Robert Kadner. Interestingly, this TonB-dependent transporter is regulated both transcriptionally and translationally in Escherichia coli. Dr. Kadner was probably the most intelligent and egalitarian person that I have had the good fortune to work with. He is missed by all who knew him.
University of Virginia, School of Medicine. Charlottesville, Virginia (1997-2000)
In my final fellowship, I studied the genetic organization of LPS genes in Pseudomonas aeruginosa in the laboratory of Dr. Joanna Goldberg. The genes involved in LPS core biosynthesis facinate me even today - especially their variation and role in virulence. My time in Dr. Goldberg's lab taught me the value of dedication and organization in the lab. I am still attempting to emulate her system in my own research lab.